Digital transformation projects pick up pace under pressure
Analytics, AI and automation
Data analytics, AI and automation are also expected to play a prominent role as IT projects take on a more innovative flavor.
Maven Wave Partners, an Atos company and Google cloud partner, earlier this month entered a partnership with cloud data analytics vendor Snowflake. Part of the motivation behind the agreement is tapping the cloud-based technology to address accelerated digital transformation projects.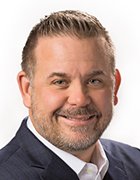 Todd Truesdell
Healthcare organizations, in particular, are embracing the "fail fast, learn quickly" philosophy as they develop analytics systems to understand COVID-19 data or predictions, said Todd Truesdell, managing director of data analytics at Maven Wave. Cloud-based analytics platforms, coupled with the minimum viable product (MVP) approach, lets organizations quickly address their needs. The alternative is taking months to build business intelligence tools and data warehouses using the traditional waterfall development methodology.
Healthcare customers "just don't have that time right now," he said.
Truesdell added he also expects to see more data analytics projects in the retail market. Data analytics can help retailers determine the appropriate staffing levels for a store, or a department within a store, based on financial metrics and customer-buying behavior.
AI, meanwhile, is already finding a home in COVID-19-driven projects. Critical Supply Connect, for instance, uses Accenture's AI-based procurement market intelligence advisor, which augments sourcing experts to speed up the discovery of suppliers, Sharma noted.
In addition, Accenture worked with the state of Texas Workforce Commission to deploy an AI-based virtual assistant to handle the sharp increase in unemployment benefits queries, he said.
"The surge of requests placed a significant strain on the commission's online channels and the capacity of its call center," Sharma said, noting other states face the same challenge.
In the area of automation, Patil said he's seen some acceleration of activity compared to early 2020, before the coronavirus lockdown. Some market watchers have pointed to technologies such as robotic process automation and intelligent automation as ripe for significant growth.
"In essence, automation is the social distancing of business resiliency," Sharma said. "The adoption of hyper-automation will accelerate."
He said automation boosts the efficiency of systems, eliminating application and infrastructure bottlenecks and freeing human resources to focus on higher priority issues.
And, during a pandemic, automation can also "help track the location, safety and productivity of all resources as part of an overall business continuity plan," Sharma said.
The precise timelines the next wave of digital transformation projects will follow is difficult to nail down, given the staggered reopening of the economy and the potential for new spikes in coronavirus infections.
DeVerter said the recovery from COVID-19 will differ from the rapid post-9/11 recovery and the slower rebound following the 2007-2009 recession.
"The thing that makes this so different is we don't really see a finish line anywhere," he said.
But in the meantime, organizations will look to improve their resiliency and position themselves for the recovery — whenever it occurs.
"Transformation has to continue," Patil said.
Speeding innovation
In the COVID-19 environment, one of the biggest questions service providers and their customers face is how to accelerate IT initiatives to rapidly yield results in contrast to years-long digital transformation projects.
Service provider firms are finding the answer in a combination of fast-turnaround methodologies and technologies, such as cloud, which let organizations quickly set up IT resources.
Orion, for example, has developed an agility-at-scale concept to help speed the course of innovation. Patil said the company talks with customers about their desired end state and then takes a step back to identify what key technologies must be solidified to make that happen. Once stabilized, the core technologies can be extended, and innovation can follow.
Patil cited the example of moving a paper-based process to some sort of automated system. Once the core automated system is in place, the focus can shift from the foundational technologies to a succession of "bite-sized" innovations through AI and machine learning.
"You've got to have the basics in order to innovate the quick wins," he said.
Maven Wave, for its part, has rolled out a COVID-19 Rapid Response offering. In this service, Maven Wave helps clients with tasks such as getting remote employees on G Suite Essentials and tracking healthcare trends via data visualization. Projects of the latter type can be deployed in about two days to two weeks, assuming little-to-no customization.
"We are helping healthcare clients build those initial MVPs with a very iterative type of approach," Truesdell said.