Enterprise architecture strategy experts offer pandemic tips
Align enterprise IT architecture to the business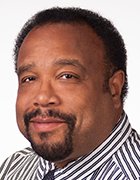 James McGovern
James McGovern, independent consultant; former enterprise architect, The Hartford; former enterprise architect, Hewlett Packard; former enterprise architecture research director, Gartner: There are lots of ineffective enterprise architecture practices out there that need to be revisited in terms of their mission and charter. Unfortunately, organizations have been misguided into thinking that enterprise architecture is only about technology planning. We have to figure out how to make enterprise architecture a lot more business aligned and, especially nowadays, help our organizations successfully transform, look at new business models, and provide value in an ecosystem context. Right now, most organizations think of business strategy and IT strategy as two separate things. We have to blur those lines. It takes a lot of effort and thought process to be more business-outcome-driven. It's not simple or straightforward. You've got to really put on your creative thinking hat.
In this particular space, I don't think you can read about best practices. There's not a single book that is prescriptive enough. It's got to follow the apprenticeship model. You need to have some hand holding going on. An independent consultant can help get them on the right track in a three-month engagement, so the investment is not that big. This is not where I would recommend calling up your friendly neighborhood big X firm, [such as] Accenture, KPMG or Cognizant, to help with your enterprise architecture. More often than not, they're using that as an opportunity to study your systems and figure out how to sell you more outsourcing.
COVID has forced many organizations to adopt a work-from-home model. Many executives still believe that control is the best way to drive productivity, and they fear losing it. Less controlling executives believe a lot of creative, effective work happens via in-person relationships. What remains unexplored are the ways to enhance relationships and productivity when working virtually. Nowadays in a war for talent, an organization in, say, Virginia can attract talent from all of the USA. Too many organizations are holding onto legacy management approaches that hinder their approach to enterprise architecture and miss opportunities to strengthen their business strategy.