IT Trade Shows Go Virtual: Your 2020 List of Events
Virtual IT events and trade shows are popping up everywhere this summer and fall. Even if your travel budget has been cut, you can still make it to these.
Whether you are a regular at technology events and trade shows or, as more of an introvert, you prefer to hold down the fort at your own office while everyone else is out traveling, the year 2020 presents a unique opportunity for plenty of IT pros.
In response to the COVID-19 pandemic, many of the familiar trade shows and vendor events are being transformed from physical events to virtual ones. You don't need to go through TSA, take a plane, rent a car, spend money on a hotel. All you need is your computer and web browser.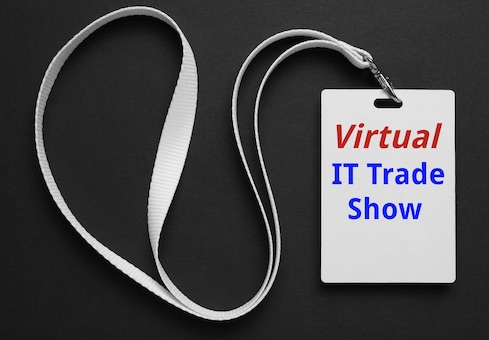 So if you are a more of the homebody type, or if your travel budget has always been limited, this year provides the opportunity to attend all those events that you wished you could have gone to in the past, because now they are virtual.
If you are a road warrior, looking to hit as many shows as you can, it will be easier than ever to attend multiple events, even if your company has restricted the travel budget this year. You could even go to multiple events in a single day. It doesn't matter where you are geographically.
Plus, forget about the need to wear a facemask when you are at a virtual event. Even though you need to wear one when you go out locally, you are free to go without in the virtual world.
What you do need, if you want to get the most out of your virtual event hopping for the rest of 2020, is a plan. Some events may overlap. Plus, you want to make sure you block out time on your calendar for the important ones so that you don't end up on a long internal Zoom meeting because people thought your calendar was clear. The first step on your virtual tech event tour for the rest of 2020 is to decide "where" you want to go. We've made it easier for you Here's our list, so open up that calendar and get your plan together.
ServiceNow Knowledge 2020 Digital Experience
May 5- June 12
IT operations and help desk giant ServiceNow has transformed its user conference into several weeks of video content, premiering each week on Tuesdays, and available on-demand after that.
Cisco Live
June 2-3
Cisco Live 2020 runs from 9 am to 3 pm Pacific Time on June 2 and 3, and Cisco says it will gather the best and the brightest IT heroes for keynotes, technical education, networking opportunities, and more. Also appearing will be Joan Jett, Dave Matthews, Charles Kelley, Sekou Andrews, The Chainsmokers, and Fall Out Boy.
SAP SAPPHIRENOW
June 15
SAPPHIRE NOW Reimagined gives you direct access to our extended community through  a network of digital broadcasts and curated content, serving as your "playbook" for information important to your business interests. 
Spark+AI Summit
June 22-26
While some organizations may be cutting back the number of days for their events, Databricks is doubling down. The company has extended it to five days with more than 200 sessions and 4x the training. It is open to everyone globally. Databricks says, "Join tens of thousands of engineers, scientists, developers, analysts and leaders as we shape the future of big data, analytics and AI."
HPE Discover Virtual Experience
June 23 -25
HP Enterprise promises "thousands of business leaders and technologists from across the globe" to help attendees learn about the newest edge-to-cloud technology solutions. There will be more than 150 live and on-demand sessions, demos, hands-on labs, training programs, and more.
AWS Public Sector Summit
June 30
The AWS Public Sector Summit has moved from its original location in Washington, DC to a browser near you. AWS says the event is designed to help you learn how the cloud is accelerating innovation in businesses of all sizes.
Google Cloud Now
July 14 – September 8
This digital event will offer new content each Tuesday for 9 weeks, starting on July 14. Topics will include industry insights, productivity and collaboration, infrastructure, security, data analytics, database management and databases, application modernization, cloud AI, and business application platform.
Microsoft Inspire
July 21-22, 2020
Microsoft Inspire is where Microsoft partners meet to connect, collaborate, and celebrate as one community, while exploring new ways to accelerate success. Working with industry experts and Microsoft leaders, partners learn to overcome the obstacles confronting their clients today and anticipate the challenges they'll face tomorrow, Microsoft says.
Black Hat USA
August 1-6
Now in its 23rd year, Black Hat USA, a top information security event, will go entirely virtual this year, but it will still provide attendees with the latest security research, development and trends. (Black Hat USA is operated  
Microsoft Ignite
September 2020
Microsoft Ignite is for IT pros, decision makers, implementors, architects, developers, and data professionals who want to expand their proficiencies. The event features Learning Paths providing opportunities to explore the latest tools, receive deep technical training, and get specific questions answered  
Oracle OpenWorld, Las Vegas
September 21-24
Oracle is bucking the trend to take its big event virtual in 2020 so far. If that changes, we'll update it here.
Dell Technologies/World
October 2020
All technologies from Dell, this event has operated over many years, and has now moved from a May 2020 in-person event to a virtual event in October.
Salesforce Dreamforce 2020
Salesforce announced plans to take all its conferences, including its big flagship event, to a virtual only this year. The original event had been scheduled for November 19-22. Dates for the virtual event are unconfirmed right now.
The following events are completed and now available on-demand:
Microsoft Business Applications Summit
Microsoft Build
IBM Think Digital
TensorFlow Dev Summit
HIMSS20 Digital
Do you know of a virtual IT event that hasn't been listed here, but should be? Please let us know. Send an email with the subject line "virtual event" to [email protected]