Senate bill a step forward for cryptocurrency regulation
Cryptocurrency regulation bill still needs fine-tuning
The U.S. is taking a gradual approach to outlining rules for cryptocurrency use and trading, said Will Cong, associate professor at the Cornell University SC Johnson College of Business.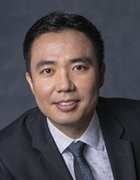 Will Cong
President Joe Biden's executive order signed in March calling on the federal government to address the risks and benefits of digital assets and its underlying technology was "paramount," Cong said.
"It's an act to coordinate everyone and to standardize," he said. "We can't have too many standards, too many bosses, there's got to be one consistent regulatory framework. That's going to save the economy a huge amount because firms need to know how to stay compliant."
Gillibrand and Lummis' proposed cryptocurrency regulation bill is a "great start" toward establishing those standards for digital assets, but it's not perfect, Cong said. Ideally, Cong said he'd like to see certain changes in the bill, particularly regarding the issuance of stablecoins.
The bill establishes a 100% reserve requirement, meaning stablecoin holders can always redeem their stablecoins in exchange for the equivalent stable asset value from the stablecoin issuer. Cong said while this is good, the bill doesn't touch on other forms of stability measures associated with stablecoins, which he would like to see added to the bill.
"It's going to set a benchmark that people can build from," he said of the cryptocurrency regulation bill overall. "But I think some parts can be done more carefully."