RPA vs. cognitive automation: What are the key differences?
Tactical vs. strategic functional reach
Another viewpoint lies in thinking about how both approaches complement process improvement initiatives, said James Matcher, partner in the technology consulting practice at EY, a multinational professional services network. Process automation remains the foundational premise of both RPA and cognitive automation, Cognitive automation can extend the nature and diversity of the data it can interpret and complexity of the decisions it can make compared to RPA with the use of optical character recognition (OCR), computer vision, natural language processing and virtual agents. These skills, tools and processes can make more types of unstructured data available in structured format, which enables more complex decision-making, reasoning and predictive analytics.
RPA usage has primarily focused on the manual activities of processes and was largely used to drive a degree of process efficiency and reduction of routine manual processing.
Although it is very effective at this and its applicability across all functional domains drives significant value, it is seldom able to drive a truly transformational change in the underlying value chains due to its task focus and inability to deal with complex decision-making.
"Cognitive automation, however, unlocks many of these constraints by being able to more fully automate and integrate across an entire value chain, and in doing so broaden the value realization that can be achieved," Matcher said.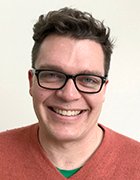 Chris Nicholson