Continuing industrial action is making hospital bosses "increasingly restless" and they want the government to find a solution, an NHS chief has said.
NHS Confederation leader Matthew Taylor says it will be difficult to clear backlogs and improve emergency care unless strikes come to an end.
Next week, NHS England will undergo the biggest bout of strikes in its history.
Mr Taylor is concerned the NHS coping with strike days so far has nurtured a sense of "business as usual".
The NHS Confederation speaks on behalf of NHS organisations and their 1.5 million employees – including managers running local trusts.
Mr Taylor said: "NHS leaders have managed the impact of the individual strike days very well up until now, but they are growing increasingly restless about the impact this dispute is having on patient care at a time when they have made solid progress to recover services after the pandemic."
And hospitals this week will face their biggest challenges yet to keep services going.
Monday will see combined industrial action, as members from the Royal College of Nursing will walk out alongside call handlers, paramedics and other ambulance staff – who are members of either the GMB and Unite unions.
The strike will affect non-life threatening calls only and people are advised to use the 999 service in an emergency.
Tuesday will see members of the RCN union go on strike again. The union represents roughly two-thirds of NHS nurses.
They are taking industrial action over pay, but life-preserving treatment must be provided, and all nurses in intensive and emergency care are expected to work.
NHS physiotherapists across England will go on strike on Thursday over pay and staffing, and the Chartered Society of Physiotherapy (CSP) says 4,200 members are involved.
And on Friday, thousands of ambulance staff across five services in England – London, Yorkshire, South West, North East, and North West – are striking.
Pay and working conditions are the two main reasons behind the latest bout of industrial action.
The government says the demands are unaffordable, and that pay rises are decided by independent pay review bodies.
The NHS Confederation represents NHS organisations and their 1.5 million employees.
In a BBC interview, Mr Taylor warned that the NHS's steady recovery from the issues caused from the pandemic will be jeopardised if strike action continues. He added that the reasons why the NHS has been able to get through strike action is largely because "the public seems to hold back from using services".
He called on the government and trade unions to be "pragmatic" and "creative" when they meet for talks.
However, he added: "Even if we had no trade unions, even if we had no industrial action, we would still have 130,000 vacancies in the NHS, we would still have problems in recruiting staff and retaining staff and motivating staff.
"So I think it falls to the government to recognise that there are genuine issues around pay in the NHS."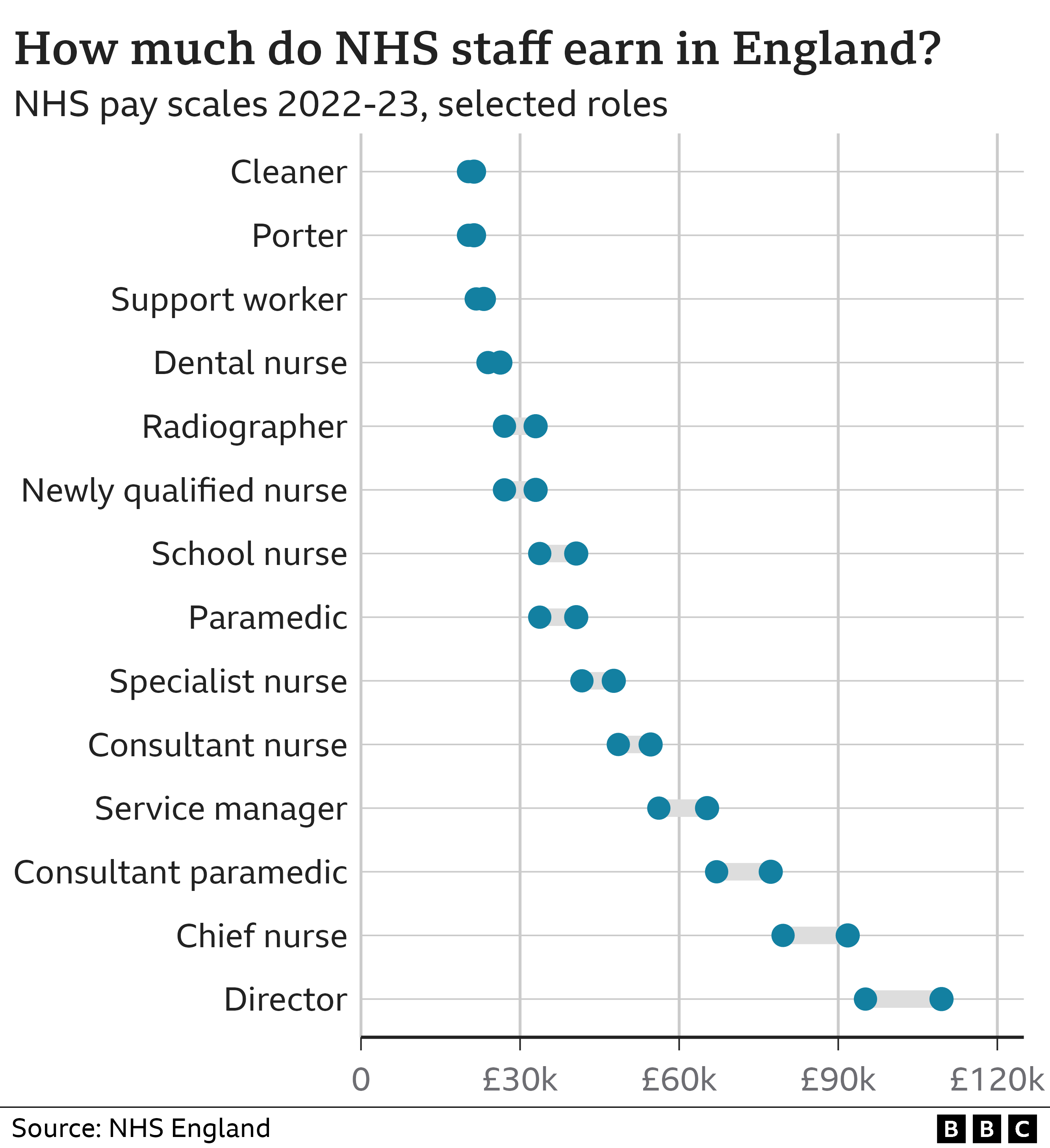 Meanwhile, most Welsh NHS staff suspended their strike action planned for next week following an improved offer from Welsh government ministers. Because health is devolved in all four nations of the UK, separate deals can be struck.