Thousands of extra hospital beds and hundreds of ambulances will be rolled out in England this year in a bid to tackle the long emergency care delays.
The 5,000 new beds will boost capacity by 5%, while the ambulance fleet will increase by 10% with 800 new vehicles.
Details of the £1bn investment have been set out in a joint government and NHS England two-year blueprint.
But questions have been raised over how the extra resources will be staffed – one in 10 posts in the NHS is vacant.
The King's Fund health think tank said until that issue was addressed it was "hard to see" how the plan would have an impact.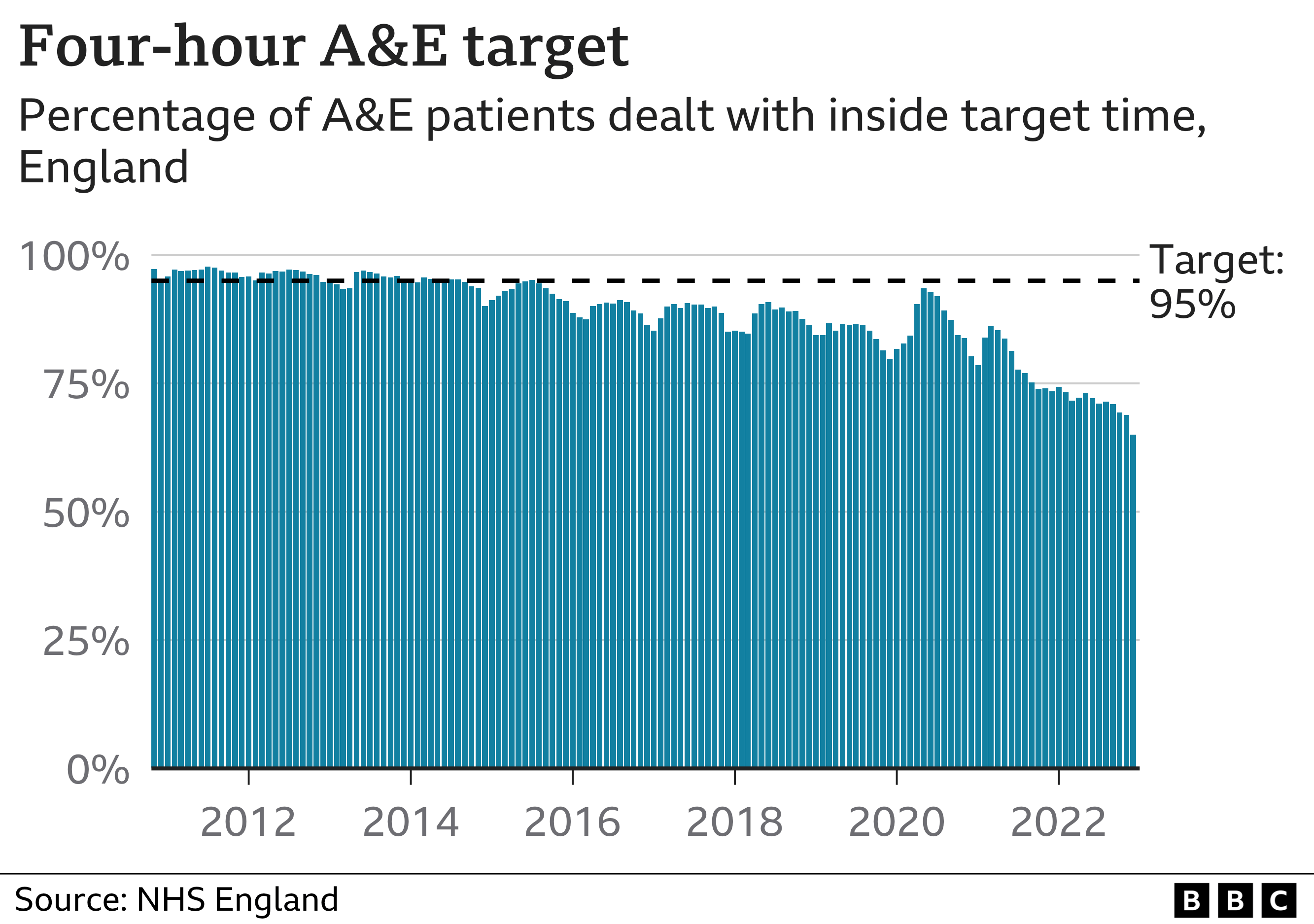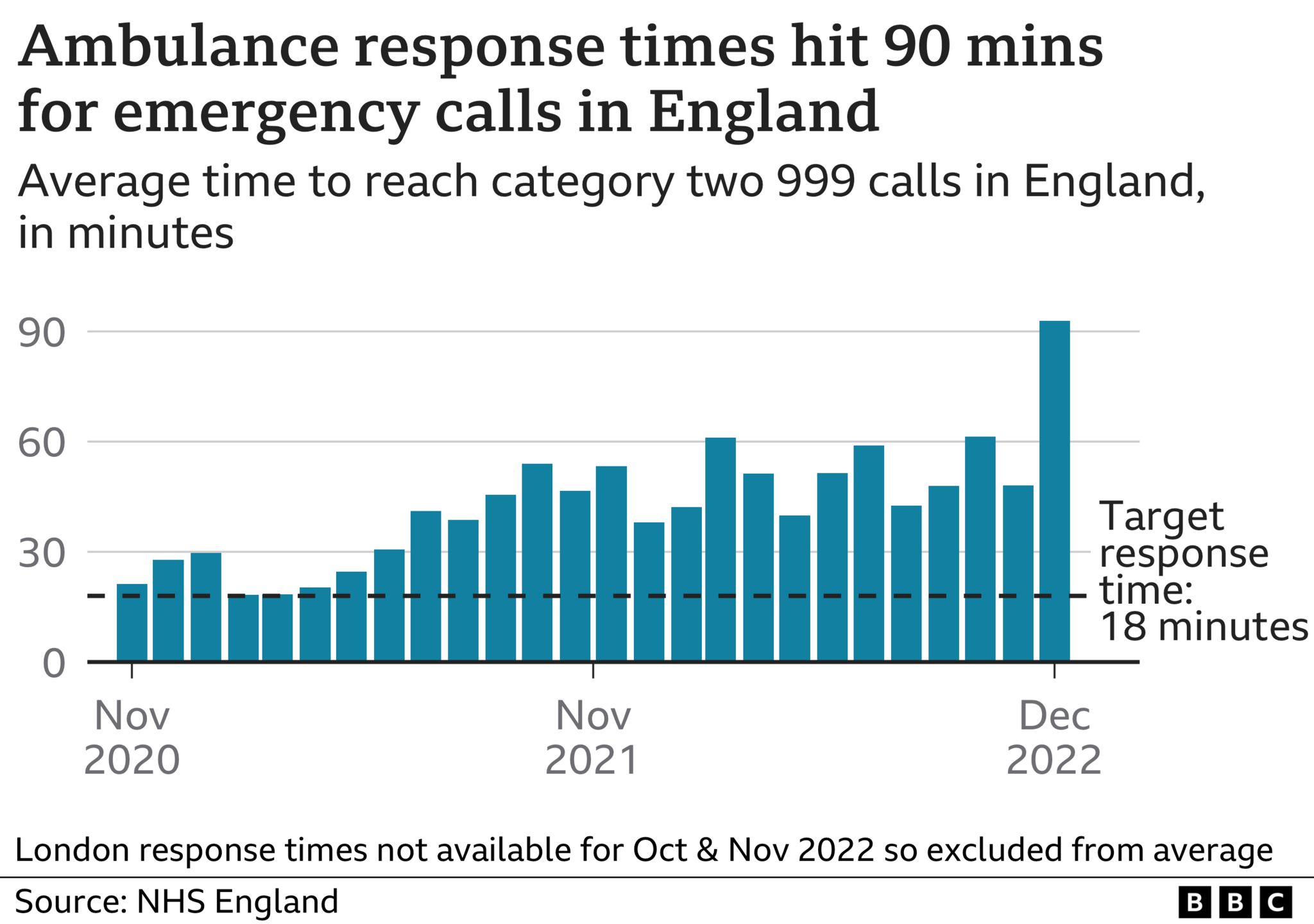 The government believes the measures, which will be introduced from April, will help the NHS to start getting closer to its waiting time targets.
It has set goals that by March 2024:
76% of A&E patients will be dealt with in four hours. Currently fewer than 70% are. The official target is 95%
there will be an average response time of 30 minutes for emergency calls such as heart attacks and strokes. In December patients waited more than 90. The official target is 18
Prime Minister Rishi Sunak said cutting NHS waiting times was one of his five main priorities.
"We have an ambitious and credible plan," he said.But Labour said the plans were not enough to tackle the problems.
Shadow health secretary Wes Streeting accused ministers of 13 years of mismanagement and said the plan was effectively "watering down" key standards, and would still leave patients waiting longer than is safe.
"Expecting the Conservatives to fix the crisis is like expecting an arsonist to put out the fire they started, it is just not going to happen," he added.
Alongside the investment in beds and ambulances, the plan will also see some of the measures taken over the past year expanded further.
This includes the creation of virtual wards where patients with conditions such as heart failure receive expert care in their own home via digital technologies.
Falls services which provide urgent responses to older people with the aim of avoiding a hospital admission will also be run all year-round.
There will also be a host of new pilots to test out step-down care to help discharge patients from hospital. This will include new rehabilitation and physio services for people who need support following a stay in hospital.
Every day more than half of people ready to be discharged from hospital cannot be because of a lack of support in the community.
NHS England chief executive Amanda Pritchard said the measures were much needed. "The NHS has been under more pressure than I have ever known in my 25 years working in the service."
Miriam Deakin of NHS Providers, which represents hospital bosses, described the plan as a "positive first step" in the recovery journey.
But she said a funded workforce plan was needed setting out how many extra staff would be recruited to help meet the challenges.
The plan has been delayed several times over the past year, although the government says it will be published in the coming months.
Siva Anandaciva, of the King's Fund, said while the plan was "broadly sensible" the publication of the workforce plan was likely to be the "real defining" document for the health service.
"Whatever service you are looking at, the one thing that's going to affect the quality of care and access is the number of staff you have so unless you've got a clear proposal for that it's hard to see how it [this plan] will have an impact very quickly."