Covid: No new hospital admissions in Wales as flu levels fall
No hospital admissions of patients with Covid-19 were recorded in Wales for the first time since the start of the pandemic, according to the latest data.
Cases of seasonal flu in Wales are also at their lowest levels since October, the latest weekly figures from Public Health Wales (PHW) showed.
Hospital inpatient cases of flu and other acute respiratory infections are falling after an early January peak.
Only one patient was being treated primarily for Covid in critical care.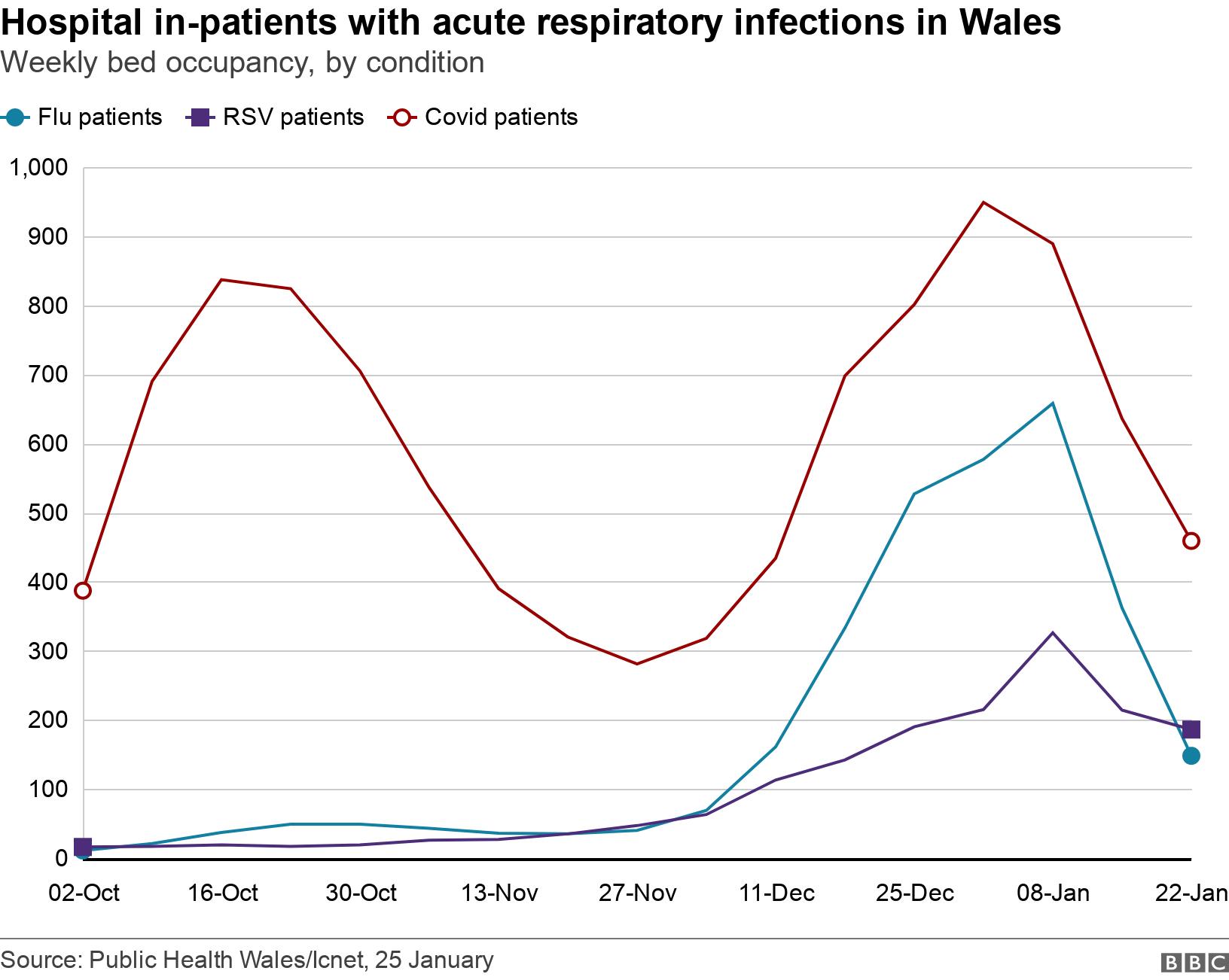 In the first week of January, about one in five patients in hospital had an acute respiratory infection (ARI) – either flu, Covid or respiratory syncytial virus (RSV).
Numbers in hospital beds peaked at 1,900 but have dropped for two consecutive weeks.
ARI patients now make up about 9% of those in hospital.
This will ease pressure on hospitals, which have been facing rising demand at the front doors and with about 1,000 patients at any one time ready for discharge but delayed because support packages or care home beds are not ready.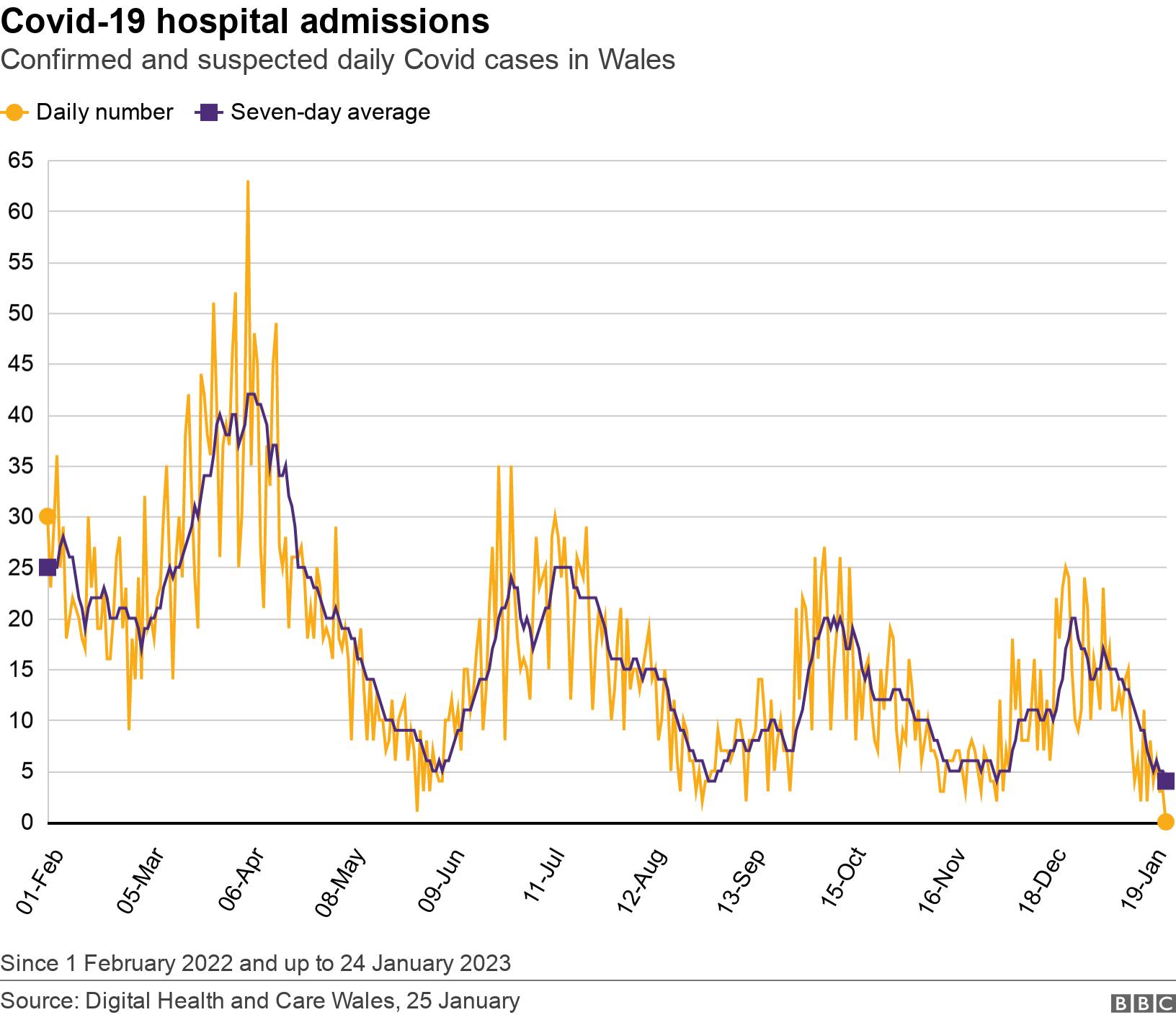 The number of patients testing positive for Covid has also been falling steadily.
For the first since the pandemic began, no admissions of patients with Covid were recorded on 24 January. The previous low had been just one admission on two days in May and June 2022.
The number of patients testing positive for Covid in hospital beds in Wales averaged 241 a day in the week to 24 January – down by a third on the week before and nearly two thirds on the month before.
Digital Health and Care Wales figures also show that on Tuesday only four (2%) of confirmed Covid patients in acute beds were being primarily treated for the virus, with 178 patients in hospital with Covid being treated for other conditions.
Only one patient was primarily being treated for Covid in critical care or on ventilation.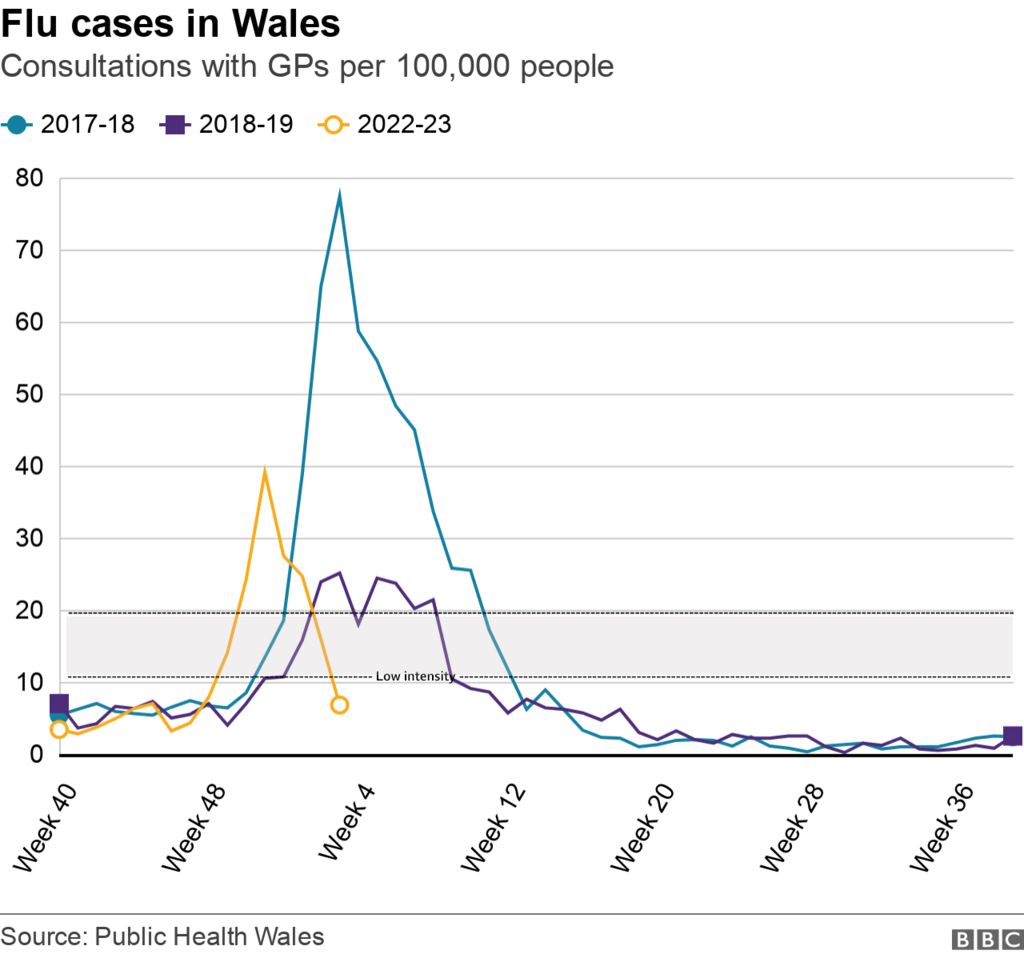 The picture in the community showed flu cases were falling, although Public Health Wales said the virus was still circulating.
There were 68 flu cases reported – the lowest weekly total since mid-October – and fewer people were calling NHS 111 for advice about symptoms.
The GP consultation rate for flu has also dropped below the low intensity threshold.
Consultation rates with GPs remain highest in those aged 35 to 44 years.
Incidences of RSV in children under five years of age – which has been at very high intensity levels in December – is back at low levels.