Since 2019, businesses that provide freelance workers to the NHS to fill significant doctor and nurse gaps have seen their earnings increase by tens of millions of pounds.
Two of the biggest businesses that supply labor to the NHS saw increases in their revenue of 80% and 77.5%.
The financial records of about 20 advertising companies that offer services in the UK were examined by BBC News.
Health officials claim that due to a lack of employees, they must spend money on freelance cover.
In November, BBC News reported that in England, total spending on agency employees in 2021 increased by 20% to £3 billion.
And the following month, Labour discovered that one hospital had paid £5,200 for a single shift of a private doctor after making a Freedom of Information request.
In the latest financial records seen by BBC News, Medacs Healthcare, "the largest supplier of locum doctors to the NHS", reported an 80% increase in sales, to £160.9m, between 2019 and 2021.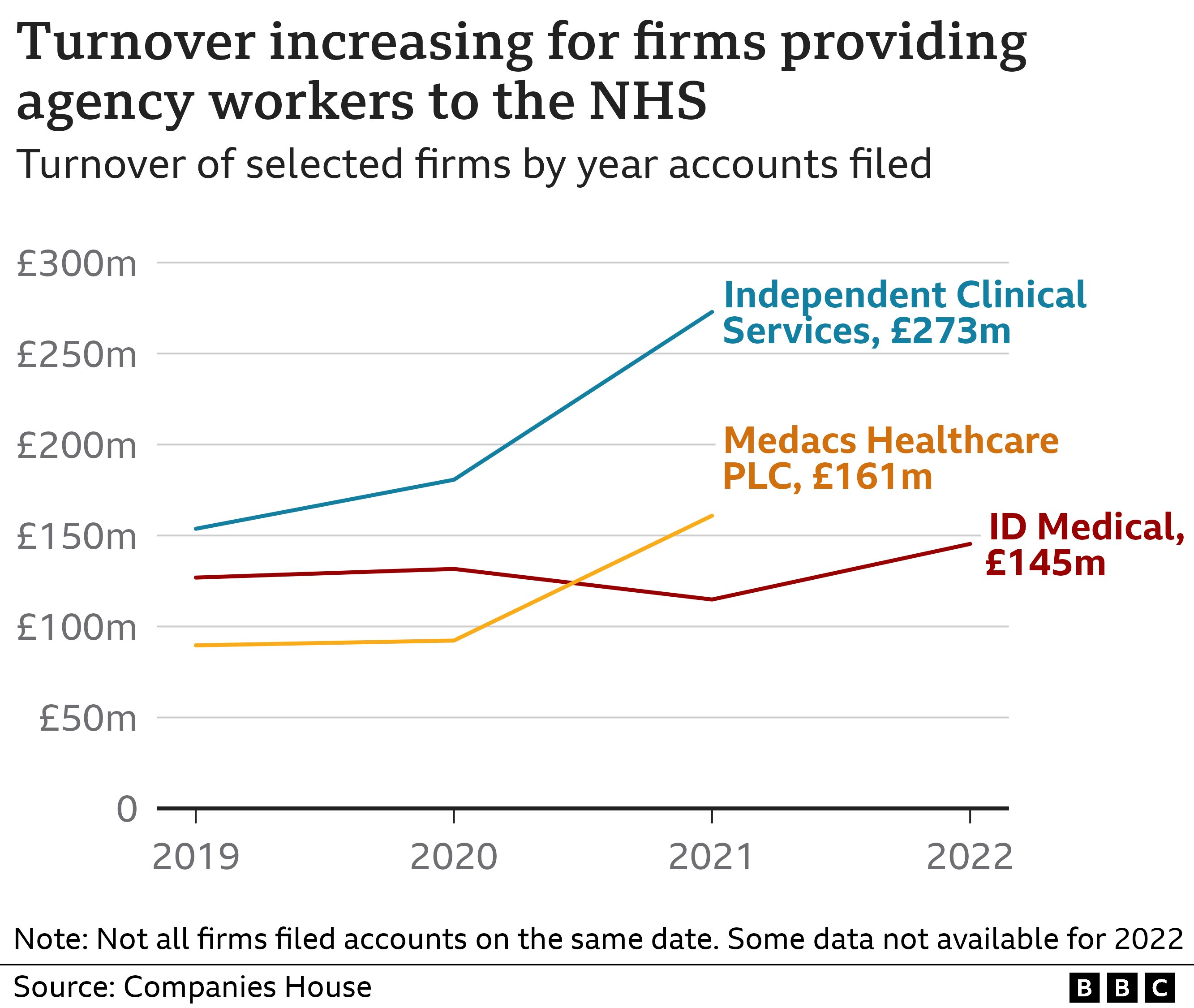 "We're proud to partner with the NHS to provide them with a round-the-clock supply of flexible healthcare workers," the company said.
"Our fees are fixed and capped by the NHS and government-approved frameworks we work through."
ID Medical, which says it is the largest UK provider of healthcare professionals to the NHS, reported a turnover of £145.4m in 2022, up 15% on 2019. It paid one director more than £800,000 last year.
The company said it worked within NHS agreements, adding: "We continue our commitment to driving costs down further In partnership with the NHS, through our broad range of long-term sustainable solutions."
Both Medacs Healthcare and ID Medical refused to reveal what proportion of their business was with the NHS.
Independent Clinical Services, which trades as Thornbury Nursing Group and Scottish Nursing Guild, reported a turnover of nearly £273m in the 2021 financial year, up 77.5% on 2019, of which, it says, the NHS accounts for less than half.
"We recognise the strain the NHS and other care providers are under and proactively work with customers to support strategic, longer-term workforce provision," ICS said.
And it had "played a crucial role in supporting care providers during the pandemic".
ICS is controlled by Acacium Group, registered in Jersey, which, in turn, is controlled, through an investment-fund structure, by a Canadian-headquartered investment company, the group's ultimate parent.
Demand outstripping supply
Hospitals need freelance doctors and nurses to fill gaps in rotas – but demand for patient care is now outstripping the supply of staff, health leaders say, which is why agency bills have increased.
Sir Julian Hartley, chief executive of NHS Providers, representing trusts, and a former hospital boss himself, said: "These figures underline the current challenge in terms of the cost of agency staff for trusts.
"All trusts are desperate to reduce those costs and indeed reduce the reliance on agency staff."
Sir Julian said the NHS was facing major challenges:
recovering from Covid
reducing backlogs
difficulties discharging medically fit patients, due to delays in community care
The cost of agency staff was a "major factor for NHS organisations who want to see a much more sustainable approach". Less should be spent on agency provision and more converted into permanent staff.
In England, trust leaders are allowed to pay a maximum of 155% of normal staff rates for any agency replacements – unless paying more is the only way to maintain safe staffing levels
There are also official NHS flexible staff banks which place health workers with employers who need to fill temporary gaps.
A Department of Health and Social Care spokesperson said: "While temporary staffing allows the NHS to meet fluctuations in demand, we are controlling spending by capping hourly pay, prioritising NHS staff when shifts need filling and hiring agency staff through approved NHS frameworks to ensure value for money.