Biden pushes big tech agenda in 2023 State of the Union
President Joe Biden called out big tech in his 2023 State of the Union address Tuesday, continuing his push for bipartisan legislation strengthening antitrust enforcement and stopping personal data collection.
Biden wants to increase competition through measures such as stopping major tech companies from favoring their own products. Policymakers introduced bipartisan bills in the House and Senate addressing this issue in 2021, but the bills failed to pass. Beyond federal bills from policymakers, the Biden administration has brought antitrust cases against Meta, formerly Facebook, and to block Microsoft's acquisition of video game developer Activision Blizzard. The Trump administration brought an antitrust case against Google.
Along with antitrust reform, Biden said he wants data privacy rules that stop social media companies and other large tech platforms from collecting personal data, particularly the personal data of children and teens.
"It's time to pass bipartisan legislation to stop big tech from collecting personal data on kids and teenagers online, ban targeted advertising to children, and impose stricter limits on the personal data these companies collect on all of us," Biden said during the 2023 State of the Union address.
Separately, Biden voiced support for the Federal Trade Commission's efforts to ban noncompete clauses for employees so that "companies have to compete for workers and pay them what they're worth."
Only five U.S. states have adopted data privacy legislation in the last two years, giving consumers the right to opt out of personal data collection and the ability to delete personal information companies have already collected. Congress has yet to adopt a federal data privacy law despite bipartisan efforts.
Rep. Suzan DelBene (D-Wash.), a federal data privacy law proponent, applauded Biden's push for privacy laws.
"I was also glad to hear President Biden push for forward-thinking data privacy policies that will give people more control over their personal information, hold bad actors accountable, and help give us a seat at the international table," she said in a statement.
Passing a federal data privacy law
Though it's been a tough road for federal data privacy legislation, proponents are holding out hope for a data privacy bill introduced last year.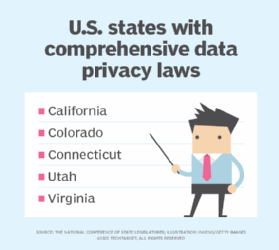 The American Data Privacy and Protection Act has advanced further than any previous data privacy legislation, passing out of the U.S. House Committee on Energy and Commerce in a 53-2 vote in July 2022. In a panel discussion hosted The bill restricts companies' personal data collection, creates consumer rights for access to delete and transfer data, places restrictions on the data broker industry, and increases protection for children under age 17, including banning targeted ads and the sale of their data.
"The U.S. has fallen behind on data privacy at the federal level," said Ashley Johnson, senior policy analyst at ITIF, during the panel discussion. "Fortunately, in the U.S., there have been signs of progress. Where comprehensive federal data privacy legislation once seemed out of reach, we're now starting to see lawmakers reach compromises on key privacy issues."
Biden zeroes in on competition with China
Biden highlighted "winning the competition with China" in his 2023 State of the Union, something the administration has focused on since he took office in 2021 The semiconductor chip and personal protective equipment shortages during the height of the COVID-19 pandemic highlighted the risks of a supply chain based mainly in countries such as China.
"I will make no apologies that we are investing to make America strong," Biden said during the address. "Investing in American innovation, in industries that will define the future, and that China's government is intent on dominating. Investing in our alliances and working with our allies to protect our advanced technologies so they're not used against us."
Makenzie Holland is a news writer covering big tech and federal regulation. Prior to joining TechTarget Editorial, she was a general reporter for the Wilmington StarNews and a crime and education reporter at the Wabash Plain Dealer.